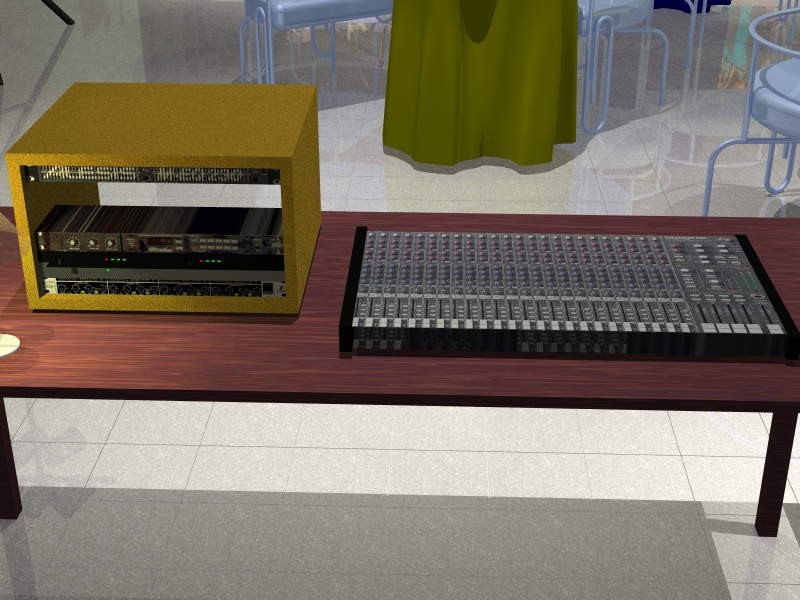 Our Sound system table. Sound board is a Mackie SR24*4. We run stereo mains and four monitor channels (everybody gets their own mix!)
The rack has 7 components in it:
2nd: (where the hole currently is...)some stereo equalizer...I don't know who makes it! (check back). One monitor channel each site.
3rd: Peavey Gatekeeper 5-channel noise gate (ours is an older model than the one on the web site, but you get the idea).
Main Speakers are Klipsch LaScala Industrials from the 1960's. They don't make the industrial versions anymore, just the home version. Ours are flat black and can be seen on either side of the stage. our LaScala's are cut apart, so that the horns are now flown on stands and pointed down into the audience and the woofers are either on the floor or on the stage. This increases the clarity of the sound system tremendously!
Our primary monitors are Peavey 112 Internationals with 12 in. Black Widow woofers and a large horn (no longer in production).
--As an audio note: We found it really critical that monitor speakers have horns. Tweeters are entirely un-necessary, horns are an absolute requirement. Horns are designed to throw the vocal portion of the audio and make a HUGE difference on stage.
Ryan's monitor is a Crate Pro Audio with a horn and a 12".
Our Synth Sub-mix monitors are made by Ross. 12in woofer + horn in each.
Our main amp is a Peavey CS-400
We use a Rane MA6 multi-channel amplifier for our monitors. Ours is actually one model older than this and doesn't have knobs (it's a fixed gain design). This is an extremely versatile amp since the channels are bridgable in pairs. We can have 6-100W channels, 3-200W channels or 2-100W+2-200W channels or 4-100W+1-200W at once.